100% Pure Coconut Oil
Purchased from my local BSS (Julia's) about £1.99
Use: I use it to seal my hair daily and I also add 2-3 drops to my moisture and protein deep conditioners*
Review: I love coconut oil- it is quite a thick oil, but I love the shine it adds to my hair especially after a braidout. I feel it really moisturises my hair and is now my staple oil. I tried Hollywood Beauty carrot oil but came back to this one. Finally, be careful where you store it- I left it on my window sill one day and when I returned home it had frozen (it melted overnight).
Vatika Coconut Enriched Oil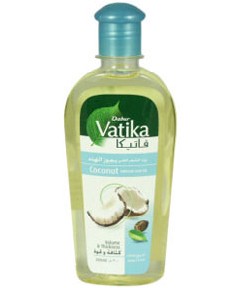 Purchased from my local BSS (Julia's), £2.99
Use: I use it to prepoo my hair before my weekly shampoo wash and I add 2-3 drops to my DCs*
Review: I like this oil- I hate the smell. It works great as a prepoo, my hair feels moisturised after washing although whether that is due to the conditioning effect of the shampoo or the vatika oil I'm not sure. It also darkens hair- which is one benefit b/c I have this one annoying brown streak. Also it contains great ingredients including coconut oil and castor oil.
Ayuuri Natural 100% Castor Oil
Purchased from my local BSS (Jenny's), £1.59+
Use: I use it to promote thick, hair growth, I apply it to my scalp 1x week after shampoo washing and 1x week after co washing to my nape area only.*
Review: It has definitely promoted thicker hair growth, I previously used castor oil 5x week which was too much! My scalp itched and I texlaxed twice which was probably due to the effects of castor oil looking back. I think it is a great growth aid if you have experienced breakage or have a bald spot. You can also dilute it with another oil because this oil is quite thick. Be careful of applying it when you are dressed- I think it stained my top :(
Extra Virgin Olive Oil (EVOO)
Borrowed from my mum's kitchen, purchased from my local supermarket (Sainsbury's), £2.60
Use: I use it to add shine and I add 2 drops to my moisture and protein deep conditioners*
Review: Olive oil definitely promotes shine, to be honest I haven't thought about using it for anything else- I've heard it can be great for skin (an obviously cooking). The best thing for me about olive oil is the price and availability- cheap and you can get it from any supermarket.
On my oil wishlist is Argan Oil- but it is so pricey even from Amazon or Ebay! And the 'One n Only Argan Oil' products do not have argan oil as the 1st ingredient.
*I use this oil in my hot oil rinse, which I tend to do weekly before shampoo washing from 8 weeks post relaxer.