Every month (I will try to keep my list short to 4 items just 1x month) I will do a blog post about allll the lovely hair related products I really wish I could buy if I had endless money. I got the idea from
here
with the hope of writing this blog post being therapeutic and eliminating my need to buy these items, pssh yeah right!
Blurb:
*LOVESTRUCK* this is a synthetic lace front wig, but omg she is just amazing! I want her, I need her, I must have her. I have been looking for a human hair wig with a bang for aages but I've heard nothing but good things about Sassy Secret (which is where she is from). She would cost about $160 inc delivery (£120).
Blurb: April* is beautiful Light Yaki loose curl Lace front Wig. The hair has been textured to mimic African American hair with a beautiful curl pattern. The hair has a matte finish (no fake shine) making it look amazingly like human hair! If you are looking for a great inexpensive Undetectable Hair replacement solution, synthetic lace wigs are a great option. Very affordable, perfect for a woman who wants a low maintenance, wash and go hair style that looks Great every time. Unlike Human Hair, Synthetic wigs maintain their style and shape even after several Washes.

April is made of a high quality heat resistant synthetic fiber known as Natura. Natura fiber creates the most natural looking luster embodied hair that simulates human hair. This sought after material is soft, light-weight, more manageable, and lasts longer than other synthetic fibers. Natura is the most practical and realistic looking fiber and has been extensively used by top wig designers for many years. Natura is the most natural looking synthetic fiber, best simulates human hair. The most resilient fiber, withstands washing and wearing durability. Natura is the easiest synthetic fiber to style and is heat resistant up to 400 degrees.

Say Hello to April! She is yummy- literally every time I see her on Sassy Secret I feel like whipping out my card and buying it! Again she would cost about £120, she is so divalicious! I am not one for biiig hair but sometimes I do want to try big diva Beyoncesque hair. I think this would be great for a night out, she is quite long so whether or not she'd tangle easily I'm not sure. Maybe I should look at the clearance section of this site. This is a synthetic lace front as well. She comes with 3 inches of parting space!
3. Remington Pearl Hair Curling Wand Ci95, £25.49

Blurb:
The latest in styling innovation, this
Remington Pearl Hair Curling Wand Ci95
has a high-tech barrel with an innovative coating that makes it super smooth. Precious pearl power incorporated into the Advanced Ceramic coating of the barrel makes it eight times smoother and five times longer lasting than standard Ceramic wands. No snagging or catching, the wand glides effortlessly through the hair to create super sleek high definition curls. Want to create movement with waves or curls then the Remington Pearl Wand Ci95 is the wand for you. No traditional tong clamp – just wrap strands of hair around the smooth conical barrel, holding the cool tip at the end and in seconds create boho-chic bouncy curls with just a twirl.
So Hot!
With a high-tech lockable digital display and the widest heat range on the market (130-210°C) you can be in complete control of the temperature that has just the right curl power for you. The Remington Pearl Wand Ci95 heats up in a speedy 30 seconds so you can be the first to hit the town.
Lust-Have, Must-Have
Not only does Remington Pearl perform to perfection, but it looks stunning too. High gloss black contrasts with a subtle and stylish oriental cherry blossom motif to create a curling wand that should be on everyone's lust-have wish list.
This curling wand- the curls it creates omg. It always gives fantastic results whenever used in any youtube video I have seen. I think this would be a good replacement for my babyliss tong b/c I cannot create curls as easily as I would with this. I would like to purchase a heat protective glove as well to prevent any accidents too.
4. Pantene Relaxed and Natural Dry to Moisturized Shampoo, £5.99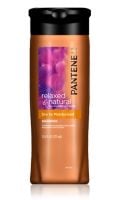 Blurb: Pantene Relaxed and Natural Dry to Moisturized Shampoo is rich Pantene Pro vitamin shampoo has moisturizing conditioners that hydrate hair and help relieve scalps dryness with every wash. It can help dry, brittle hair look healthy and irresistibly shiny. Used as part of a system with Pro V Relaxed and Natural . Intensive Moisturizing Conditioner, it helps: Protect hair against damage to keep it healthy looking . Fortify hair with essential oils to keep it strong against damage, soft, manageable and shiny . Gently cleanse chemically relaxed, pressed or natural hair .
Ingredients:
This product's reviews actually surprised me. It has been praised a lot on a few natural hair blogs for it's ability to moisturise even the driest, coarsest of hair. I guess I want to try due to curiosity and also because it can be purchased from Pak Cosmetics so it's quite accessible and there are no excessive delivery charges. The product range also has two conditioners, moisturiser and a spray, I also like the range for its versatility b/c it can obviously be used on both relaxed and natural hair textures. I couldn't find a list of ingredients though on their website.