Below are my favourite pictures of my natural hair so far, I only BCed 4 months ago but I'm really pleased with how my hair is growing :)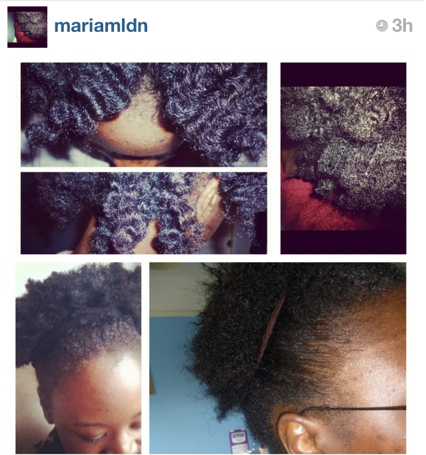 I've just realised I've been blogging for so long this is the 3rd time I am setting hairesolutions. How did I do on last year's ones?
2012 Hairesolutions:
To continue to protective style 5x week: well I definitely do this! So I am pleased with this one and I definitely think I have benefited from protective styling especially concerning growth retention.
To try new products like grease lol- Dax or Blue Magic just like the old days: okay I hopped on the bandwagon with this. Here is the review, I tried it but currently I have 2 jars of Blue Magic sitting in my room untouched. This product is a no-no for me.
Avoid buying more hair products unless something actually runs out: Yes! I actually achieved this when I first started my HJ I was a huuuge product junkie. The only duplicate I have are 2 conditioners (1 Suave and 1 Tresemme). I am running low on shampoo but until I run out I am not purchasing any!
Reach BSB (below shoulder blade): I have not achieved this (probably because I chopped off the majority of my hair in August lol) maaaybe next year *fingers crossed*
2013 Hairesolutions:
To continue to try out new hair styles with my own natural hair and find a staple style
To increase my *hair confidence* and actually start wearing (and enjoying) my natural hair out during Spring and Summer
To actually do a giveaway! I've been blogging for too long not to do one
To reach BSB by December 2013.